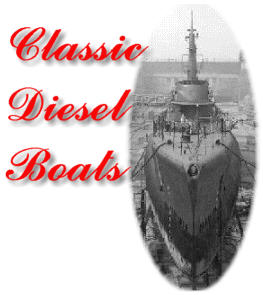 Classic Diesel Boat Photos on SubmarineSailor.Com
Shipmate Jerry Cornelison sent me a diesel boat photo (the USS Archerfish) that was outstanding and, I thought, a classic representation of the diesel boat and the spirit of the men that rode them. He sent me a second photo - used in the logo above - and I decided to put together a collection of the very best photos I can find.

This collection will be limited to those photos that for one or more reasons, stand out from others - photos that can stir ones emotions.

USS Archerfish AGSS-311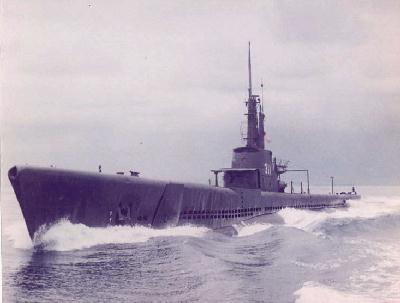 This picture of Archerfish was taken on April 4, 1968. The picture was taken on our return trip to San Diego following our Port Call at Avalon, Catalina Island. We didn't know that it would be the last Port our historic Old Archerfish would ever visit. When we got back to San Diego, we learned the very sad news that Archerfish was to be decommissioned and the All Bachelor Crew disbanded....a very, very sad day.

A torpedo retriever came out and met us to take the picture. I was a lookout in the Starboard Shears at the time. Everyone was ordered below for the picture. I remember that we thought it was kind of weird that we didn't have anyone topside, lookouts or an OOD, while underway. It made for a great picture though.

USS Archerfish AGSS-311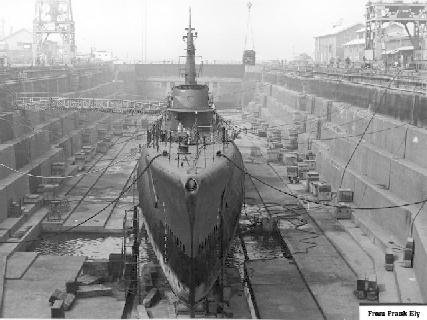 This is Yokosuka, April 1966. Archerfish is in Drydock #4. Shinano was built in Drydock #6. The Japanese Shipyard workers were well aware of "who" Archerfish was and what she had done in WWII, 1944. Some of the yard workers had actually worked on Shinano. I was not there for this picture but from what I understand, quite a large number of yard workers were just standing on the edge of the Drydock staring at Archerfish. The CO or OOD (not sure) went over and talked to a group of them and invited them onboard for a tour. Following initial greetings, bows etc, the smiles started to replace the frowns and everything was cool.

Thanks to Archerfish Shipmate Frank Ely for this picture.
Menu
Page 1
Page 2
Page 3
Page 4
Page 5