Our nations highest military award for bravery is the Congressional Medal of Honor. It was conceived in the early 1860s and first awarded in 1863. It is actually just the Medal of Honor, but because it is presented "in the name of congress" common usage adds " Congressional." The rules for who can be awarded the medal are set forth in a public law which reads:
"The President may award and present in the name of congress, a medal of honor of appropriate design, with ribbons and appurtenances, to a person who, while a member of the [armed forces], distinguished himself conspicuously by gallantry and intrepidity at the risk of his life above and beyond the call of duty, while engaged in an action against an enemy of the United States."
Medal of Honor Citation for
Commander Howard W. Gilmore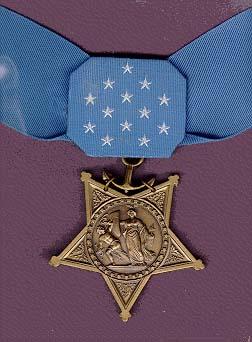 "For distinguished gallantry and valor above and beyond the call of duty as Commanding Officer of the USS Growler during her Fourth War Patrol in the Southwest Pacific from 10 January to 7 February 1943. Boldly striking at the enemy in spite of continuous hostile air and antisubmarine patrols, Commander Gilmore sank one Japanese freighter and damaged another by torpedo fire, successfully evading sever depth charges following each attack. In the darkness of night on 7 February, an enemy gunboat closed range and prepared
to ram the Growler. Commander Gilmore daringly maneuvered to avoid the crash and rammed the attacker instead., ripping into the port side at 17 knots and bursting wide her plates. In the terrific fire of the sinking gunboat's heavy machine guns, Commander Gilmore calmly gave the order to clear the bridge and refusing safety for himself, remained on deck while his men preceded him below. Struck down by the fusillade of bullets and having done his utmost against the enemy, in his final moments, Commander Gilmore gave his last order to the officer of the deck, " Take her down." The Growler dived seriously damaged but under control, she was brought safely to port by her well-trained crew inspired by the courageous fighting spirit of their dead captain." 9
Commander Gilmore's widow, Mrs. Howard W. Gilmore of 5315 South Liberty Street, New Orleans, Louisiana, was the sponsor of the submarine tender named in honor of her husband. The Howard W. Gilmore, AS 16, originally named the Neptune but renamed before launching, was launched, on 16 Sept. 1943, at the Navy Yard, Mare Island, Ca.
9 United States Naval Academy, Medal of Honor Citation for Commander Howard W. Gilmore
I believe it would be appropriate at this point to dedicate the Submariner's Navy Hymn to all past, present and future submariners. This hymn was received from Senior Chief Darrell D. Ames [ AmesDD@csp.navy.mil ]

Eternal Father, Strong to save
Whose arm hath bound the restless wave,
Who bid'st the mighty Ocean deep
Its own appointed limits keep;
O hear us when we cry to thee,
for those in peril on the sea.

O Christ! Whose voice the waters heard
` And hushed their raging at Thy word,
Who walked'st on the foaming deep,
and calm amidst its rage didst sleep;
Oh, hear us when we cry to Thee
For those in peril on the sea.

Most Holy Spirit! Who didst brood
Upon the chaos dark and rude,
And bid its angry turmult cease,
And give, for wild confusion, peace;
Oh, hear us when we cry to Thee
For those in peril on the sea!

O Trinity of love and power!
Our brethren shield in danger's hour;
From rock and tempest, fire and foe,
Protect them wheresoe'er they go;
Thus evermore shall rise to Thee
Glad hymns of praise from land and sea.

Lord God, our power evermore,
Whose arm doth reach the ocean floor,
Dive with our men beneath the sea,
Traverse the depths protectively.
O hear us when we pray, and keep
Them safe from peril in the deep.


During the Growler's refit, alongside the U. S. S. Fulton, AS 11, February 1943, a song dedicated to Cdr. Howard W. Gilmore was written. Mr. William E. Hanks recently gave the sheet music to me. Mr. Hanks is an Ancient Mariner, of the United States Naval Reserve Midshipmen School, New York, N. Y., tenth class. Mr. Hanks was an Ensign aboard the U. S. S. Drum, SS 228, which was stationed in Brisbane for her seventh and eight patrols. This was during the repairs to the Growler. He believes that he purchased the sheet music at the Fulton's ship store.

The sheet music follows
Eugene A. Mazza ROSUB@AOL.COM 11 NOV. 2000