Background:
The Foxtrot Radio Club was started by Don Sass (KC700) in November 2002.
Rig:
The shack is currently equipped with an ICOM IC-746PRO and vertical antenna.

Membership:
Any licensed amateur radio operator may join the radio club. Click here for an application form in MS Word format or here for Adobe pdf format

Hours of Operation and Directions:
For operating hours, please refer to the latest information on the submarine's website. Directions are also on the that site.

Contact Information:
For further information, contact Don Sass.
---
Station Activity:

2/23/2003: Don Sass (KC7OO) and Jon Meigs (WB1AJJ) relocate the vertical to the RDF mast on the submarine (putting much more distance between it and the periscopes) with great success. We are now officially - and functionally - on the air!
---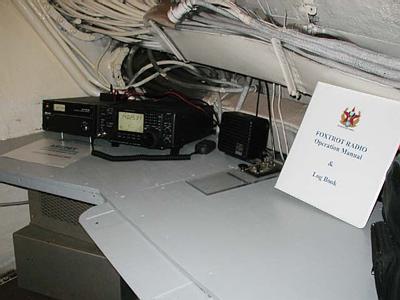 The station is set up on the evening of December 8, 2002.
---
Club Roster
| | | | |
| --- | --- | --- | --- |
| Name | Call | QTH | Subvet? |
| Don Sass | KC7OO | Everett, Washington | X |
| Ron Rueter | K7PA | Everett, Washington | |
| Don Gentry | K4SUB | Renton, Washington | X |
| Harry Bryant | AA2WN | Pennsville, New Jersey | X |
| Michael Key | KD7PBK | Sundance, Wyoming | |
| Jonathan Meigs | WB1AJJ | Seattle, Washington | |
| Andreas Benson | K7ATB | Renton, Washington | X |
Silent Keys
| | | | | |
| --- | --- | --- | --- | --- |
| Name | Call | QTH | Subvet? | SK |
| George Folta | W7KEG | Kirkland, Washington | X | 12/2003 |
---
Other Submarine Radio Stations / Organizations: