Rescue of USS Cod Boarding Party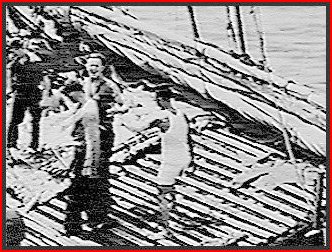 We found 'em! Read on . . . .
"Another American submarine, Cod, put a six man boarding party aboard a large junk and was caught by a Japanese plane. Cod was forced to abandon the crewmen and lost contact with the solitary vessel. In the following search involving five submarines, the crew was rescued by Blenny. This patrol was terminated at Subic Bay on August 14, 1945." (Above taken from Blenny history...Neal Stevens)
---

These pictures were captured with Snappy from a VCR tape of a 16 mm movie. Click on following pictures for full size.
---
Excerpt from Blenny's fourth war patrol report:
1 AUGUST 1945
1720  In VHF communication with COD (SS-224). He said he had put a boarding party aboard a junk this morning and had been forced to dive by a plane, leaving his party aboard. Understood him to say he had a boarding party aboard a junk now and was trying to find them. Did not sink through my head that the boarding party he was now looking for was the same one he had lost this morning although his four engine speed maneuvers looked as if he were very busy at something unusual. Learned that he had sighted a convoy consisting of one destroyer and 3 cargo vessels southbound at about 1000 yards off Point Penunjut. Close to the point he had to dive for a plane in 60' of water.
2110  Received message from COD telling us he was searching for a two masted sampan with his boarding party aboard lost when forced down this morning and giving his position.
2237  COD gave us full details on her boarding party. They had boarded junk at 0830 I, plane had strafed them causing them to leave 6 of their men on junk. Planes and approaching convoy kept them down until 1500 and up and down since. He asked if we could search to south on long 103-35.
2242  Told LIZARDFISH (SS-373)and BOARFISH (SS-327), COD had boarding party on 2 masted sampan adrift since 1000 I and directed them to assist in search between Lat 4-20 and Pulo Tenggol immediately. Gave position sampan was last seen in as 4-21 N, 103-32 E.
2 AUGUST 1945
0136  COD says boarding party has flashlight and that CTF 71 has been notified of their predicament.
3 AUGUST 1945
0845  Transfer (by breeches buoy) completed. Received 120 rounds of 5" and 224 rounds of 40mm plus a box of shot gun shells which BOARFISH is dubious that we will be able to sink any sampans with.
1157  (Ship Contact No. 36) Lat 4-44 N, Long 103-22 E. Periscope sighted large 3 masted reddish brown sail junk to west near Pulo Kapas, changed course to 270(T).
1202  Increase speed to 2 engine.
1217  Junk shows white patch on leech of mainsail in conformance with description given by COD. Bow has bulge like a net tender and junk is beating up wind to southward. Breathed a fervent prayer that this was it and not just a fancied resemblance.
1225  All ahead flank headed for junk.

1226  Can see junk is luffing up, can see people moving on deck, can see something white moving about (the white dog COD described). Boy oh boy are we happy.
1227  Have communication with COD's boarding party. They are anxious to make sure we know who they are.

1234  Alongside junk, about 2 miles east of Pulo Kapas. Boarding party of COD's, Lt.(jg) Franklin S. Kimball (an old shipmate of the C.O.'s) in charge, consisting of the following men, came aboard; BABICK, John, CEM, McKNIGHT, George J., MoMM1c, TOLLE, William, TM3c, RENFRO, Sam J., S1c and SEE TONE, Chinese volunteer prisoner of COD's.

All men were in perfect shape and considerably more composed than most of our crew, who were outwardly exceedingly jubilant. Was so happy at the location of survivors gave junk crew canned goods and fresh bread instead of sinking them and in accordance with sentiments of boarding party.
1240  Told COD we were taking all her men on board, all O.K. Headed for rendezvous with COD.
1300  Told COD where her junk had been found and designated rendezvous east of Pulo Tenggol.
1450  Rendezvoused with COD transferring men to her by breeches buoy.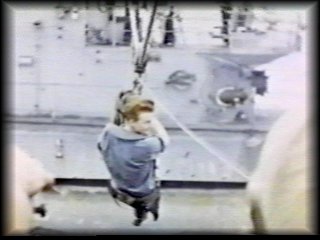 Looking at Blenny transferring men
| | | |
| --- | --- | --- |
| John Babick | Sam J. "Bo" Renfroe | "Tommy" See |
| George McKnight | William G. "Red" Tolle | Franklin J. Kimball |
Norman R. Jensen, combat photographer, took these pictures on the last patrol (7th) of the USS COD.
Note. . . The above pictures captured from video tape furnished by "John C. Fakan" Organization: U.S.S. COD Submarine

John C. Faken usscod@en.com
The USS COD Home Page
1507  Tranfer completed. COD's crew looked like a bunch of Cheshire cats, grinning as if that was all they could do. Standing west to close coast between Tenggol and Kapas.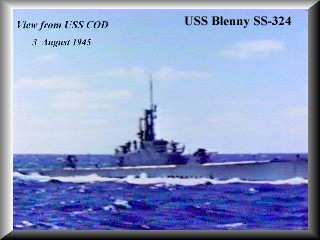 ---

NOTE: In June 1995 my wife and I were in Bangor WA to make a day trip on the USS OHIO (SSBN-726). We met one of the crew members, Eugene "Gene" Leonard, who had been on the COD when this took place. (Frank Toon)
---
A letter from one of the COD Boarding Party . . .
Sam J. "Bo" Renfroe, from a letter dated 21 May 1996
(Excerpt from his response to an invitation to attend the BLENNY reunion in Milwaukee)
I didn't serve on BLENNY but I did experience the thrill of being "rescued at sea" by BLENNY and her crew. I was one of the five crewmen off the USS COD that was left topside under a Jap plane attack, spent a few days on a Jap junk, then had the good fortune of being found by BLENNY and returned to the COD.
I do recall Captain Hazzard, though, for I thought then and now that he would be a great skipper to serve with. I remember calling him "Captain Santa Claus" when they picked my bunch up..... I don't know why that popped into my mind, but it did. I suppose it was because, in our danger, I had been thinking about the happy times of my childhood and it seemed always to be at Christmas time. At this time, though, the sight of Captain Hazzard and the BLENNY crew far surpassed any joys of Christmas I had ever experienced! Thus, the title "Captain Santa Claus!!"