Griffith Observatory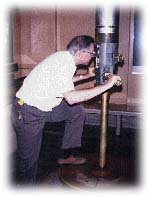 A World War II vintage periscope nearby is very popular with kids of all ages. This periscope, which was donated by the U. S. Navy, was used to sink over 40,000 tons of Japanese shipping by the end of the war. Now you can use it to sink houses and buildings in Hollywood. The periscope extends through the ceiling and projects 22 feet above the roof (you can see the top part of it from the roof).





Facts regarding the periscope exhibit:
(from the Observatory curator)

1st ship served was the U.S.S. Blenny, which first sailed from Pearl Harbor 10 Nov, 1944.

1st Japanese enemy encounter: 1 Dec, 1945 against a Japanese Naval cruiser.

1st damage inflicted was 14 Dec, 1945 against a 300 ton Japanese sea truck, sunk.

U.S.S. Blenny sank 43,335 tons of shipping material in 4 patrols during WWII.
---
2nd ship served was the U.S.S. Charr during the Korean conflict.
---
3rd ship served was the U.S.S. Ronquil, 1960 to 1962.
---
The periscope was installed at the Observatory as an exhibit in the mid 1960's.
---
Ray Marshall, a Blenny crew member, visited the observatory in March 2002 and learned that the periscope was to be taken out during remodeling now going on. It will be given to the Maritime Museum in San Pedro, CA
Use browser Back Arrow to return