Sinking of the Hokoku Maru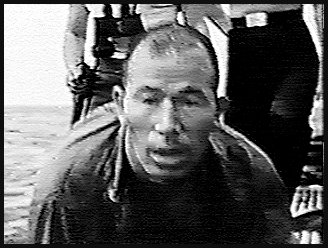 Captain Amimoto Tomohiro climbs on board
---

These pictures were captured with Snappy from a VCR tape of a 16 mm movie. Click on the following pictures for full size.

---
Excerpt from USS Blenny's third war patrol report:
30 May 1945

1453 Submerged dead ahead of target at about 19,000 yards range in sight of several praus under sail but am confident they would enjoy seeing a Jap go down.
1550 Attack No. 2 (A) & (B) Lat 4-09 S, Long 114-16 E. Battle stations torpedo. After tracking by radar, set up looks so good we plan to use two electrics forward spread for 75 feet assuming target length about 200 feet. Lt. Cdr. J. N. Felton, USNR, Executive Officer conducting approach for his practical factor in qualification for command.
Click to hear . . . torpedo firing . . .

1619 Fired 2 electrics from tubes 1 and 2 set for 4 feet with 3 degree R gyros on a starboard track, range 1180 yards, spread 3/4 R 3/4 L. The incredible has happened to the perfect set up. No hits. Quickly flooded Mk 14's in tubes 3, 4, and 5, swung right and fired 3 Mk 14's in high power set for 5 foot depth,

gyros 2 L, track 110 S, range 800, spread 0, 1/2 L, 1/2 R. One hit amidships has ripped a huge hole in side of ship and she is rolling to port and going down stern first but fairly evenly all over. Men can be seen walking down side and onto bilge keel. Target sank in one minute.

1627 Surfaced and commenced picking up survivors. Of 18 sighted in water 12 were picked up (8 Indonese and 4 Japs) most of whom were cajoled into coming aboard. Most of them could not swim and it was necessary to maneuver alongside the debris they were clinging to. With the exception of one Jap (the Bosun and cook for the Jap crew members) all recovered were unhurt except superficially.

This Jap had a broken leg and critical injuries in the groin. Put splints on his leg, shot him with morphine and delivered him and 6 other survivors to a large prau we stopped. There was another prau within 2 miles and several within sight which we decided had more time to recover remaining survivors than we.

1713 (Aircraft Contact No. 63) SD contact at 22 miles which closed to 20 miles and disappeared. Came near having to ship wreck the survivors on deck again. Gave prau some tinned goods and upon shoving off were amazed to see them bow and smile and yell happily. It was a tremendous burden to them and we would not have weighed them down were it not for the Indonese survivors. Maneuvering close to one of those fragile praus without smashing them is difficult work in a force 4 sea. Retained three voluntary Indonese.
Crew consisted of 12 Japanese, 17 Javanese, 3 Bornese, 2 Madurese, 2 Singapore Chinese, 2 Ambonese, 1 Dyak.
Wasio Soewito - 2nd Machinist (Javanese)
Aid Abdullah - Seaman (Javanese-Madurese)
Max Adam - Fireman (Ambonese)
Two Japs:
Amimoto Tomohiro - Captain (from Shimonoseki)
Ui Minoru - First Machinist ( from Nagoya)
Prisoners identified ship as the Coaster Hokoku Maru (ex Chinese Li Liang) of 520 tons, 190' long, 10' draft, twin screws, reciprocating steam engines mounting one 10 cm gun and one 6 mm machine gun with a crew of 39, including 12 Japs, loaded with lumber and copra bound for Bandjermasin from Batavia.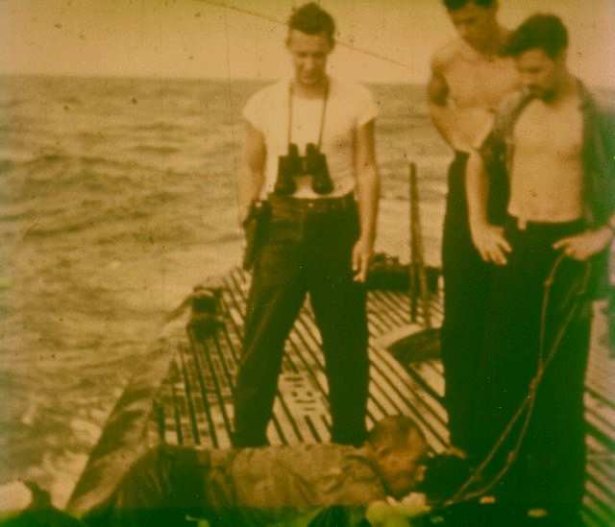 Captain Amimoto Tomohiro.
In background: Lt(jg) Spies, Herb Moore and Bud Trimble
---