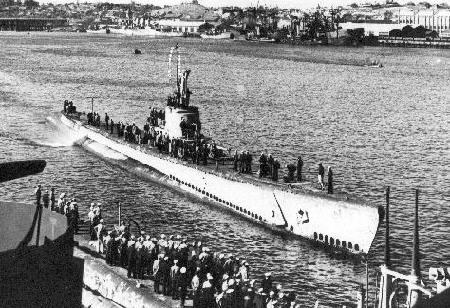 MOONLIGHT SURFACE TORPEDO ATTACK BY BONEFISH
by Cornelius B. Bartholomew
Wee hours of carousing at Santa Ana Dance land in Manila, December,1941, numbed my sensory impulses. The following morning, perspiring while exchanging practice torpedoes with HOLLAND and off loading, flammables, reality
grabbed me. Skilled as a helmsman, lookout, bow and stern plane operator and drilling for war the preceding two years didn't condition me for the facts of warfare or possibility of death.
U.S. Navy depth charges dispatched U-boat crews to watery graves. That's what newspapers printed. Scuttlebutt had only one depth charge needed to sink a sub including SARGO. While SARGO searched for the enemy, we became hunted.
To diminish detection, diving before sunrise and surfacing after sunset became the rule. Prohibited from using the heads, life long elimination habits revolved into gut wrenching agony. Foul air, brackish water and meals at night refashioned my equilibrium.
Sweltering daytimes submerged, I relished surfacing so I could fill my lungs with fresh air as a lookout. Befuddled night vision turned floating objects, birds, clouds and dark blobs, into the enemy. Smoking engines, mechanical break-downs, no contact with the outside world, erratic torpedoes and depth charges made my ghostly domain illusory.
Fun loving shipmates, port calls at Balikpapan, Borneo, Soerabaia, Java and Fremantle, Western Australia prevented me from going wacky. A torpedo bull's eye during the fifth patrol run restored my trust. A battle surface to bump off the wounded cargo ship gushed adrenaline throughout my slender body.
Salt water dripped off the fifty caliber machine gun and me while I trained my sight on the enemy. Dumbfounded because the Gun Officer filled my sight, I grabbed his shoulder. "If you move SIR, I'll open fire." After six baffling war patrols with one ship sunk another damaged, I was ready new construction.
Feminine companions while drinking on Georgia Street wipe out time waiting orders. The gals main concern was drinking unlike Australian Lassies who ideas of fun was getting married. A cross country train ride and a 30 day stop at home in Minnesota nurtured my mind and body. On SARGO I was a rookie. Reporting to BONEFISH my status changed to a seasoned petty officer and veteran. Enthusiastic training interspaced with drinking and pursuit of feminine companions readied me for commissioning on
May 1943. Eight months after leaving Brisbane, Australia, 29 November 1941 I was back and prepared for my sixth war patrol.
Trailblazing submarine tactics rattle my leaning. To cover more area, BONEFISH ran on the surface. Daily trim dives and unannounced dives became routine. Bonefish's first war patrol covered the area from Brisbane to the South China Sea. Dodging sampans, sailboats and crash dives to avoid detection by enemy planes kept me exhilarated. Even several depth charges didn't diminish my enthusiasm. My euphoria lasted through the rest and recreation period in Fremantle and Perth, Australia after a very successful war patrol.
Twenty-four torpedoes sunk or damaged five ships and another riddled by gun fire. Returning to BONEFISH after the stay at the King Edward Hotel, I prepare for my seventh war patrol.
Leaving Fremantle on 22 November 1943, dejection engulfed me. I didn't like the thought of spending my third Christmas in a row at sea hunting the enemy or being hunted. The Captain's last shouted words to Admiral Christie, "I'll be back to have Christmas dinner with you," didn't comfort me. As BONEFISH raced on the surface through Lombok Strait dodging patrol boats, thoughts about Christmas in Perth vanished.
Two days later, the sinking of a cargo ship improved my temperament. Then just north of the Equator, BONEFISH dodged patrol boats and airplanes while chasing a three ship convoy escorted by a destroyer and a sub-chaser. Being the starboard lookout on a moonlit night, I felt exposed. Tidbits of Information I heard from the bridge approach party collecting datum and exchanging ideas made me certain this approach was innovated.
The usual full power end run to gain attack position ahead then to submerge changed to an approach on the surface. The four diesel engines rumbled as the destroyer and cargo ships turned from fuzzy spots into silhouettes filling the lens of my binoculars. My knees knocked as I wondered why enemy lookouts didn't see us. The diesels' roar faded as they stopped. The main motors hummed as the silhouettes turned into ships. I feared every verbal order or report would alert the enemy as BONEFISH glided silently like a sail boat to reach firing range.
"Range 1000 yards," radar reported "Make all tubes ready," the Captain ordered.
The hull shook at 2300 as three torpedoes jumped out of the bow tubes and raced toward the destroyer. The next three torpedoes sped toward the largest cargo ship. Like long fingers, the wakes spread out behind the torpedoes.
BONEFISH turned to bring the stern torpedo tubes into firing position. The first torpedo exploded.
Ton of water, smoke and fire engulfed the destroyer. A second torpedo exploded under the cargo ship. BONEFISH shuddered as the four stern torpedoes raced toward the convoy. The smoke, sparks and fire evolved into a speculator horizon filling show.
Like a grand array of fireworks, the fanfare reminded me of the grand final at the Minnesota State Fair. Another torpedo eliminated the sinking destroyer. The second hit under the cargo ship tore her apart. Like a mixture of sparklers, pyrotechnics and giant fire crackers boilers and ammunition magazines continued bursting. Bonefish's four diesels roared to life as the sub-chaser raced out of the wreckage.
The pursuer dropped several patterns of depth charges in the are where BONEFISH launched the ten torpedoes. The sea erupted like a geyser. After reloading the tubes and a trim dive, the pursuit continued. Passing through the wreckage, survivors in lifeboats shot at lookouts and the bridge crew. Drinking hot, black coffee on mess deck, I told and retold the breathing triumph. Returning to Fremantle with an enemy destroyer and two large cargo ships sunk and a ten ton large schooner riddle with 20mm armored piercing and incendiary shells, I celebrated Christmas in Perth, Western Australia.
All the anguish fleet on the first six war patrols faded. As 1943 disappeared, I looked forward to another war patrol, And I quit DAMNING the Mark XiV torpedo.
Lost June 18, 1945
ABEL, D. A.

ADAMS, T. B., JR.

ADAMS, W. S.

AMBURGEY, L. M.

ANDERSON, G. I., JR.

AURELI, S. J.

BECK, M. L.

BROWN, R. W.

BROWNING, J. A.

BURDICK, C. A.

CANFIELD, K. T.

COLEMAN, J. A.

COOLEY, Q. L.

DANIELSON, 0 . C.

DUNN, D. H.

EDGE, L. L

ENOS, E. R.

EPPS, W. H., JR.

FELD, P. E.

FOX, D. C.

FRANK, R. E.

FUGETT, M. A.

FULLER, G. M.

HACKSTAFF, H. J.

HARMAN, G. P.

HASIAK, J. J.

HESS, R. D.

HOUGHTON, W. S.

JENKINS, R. W.

JOHNSON, J. C.

JOHNSON, S. E., JR.

JOHNSTON, T. M.

KALINOFF, M. W.

KARR,W.G.

KEEFER, R.,T.

KERN, F. B.

KING, E. W.

KISSANE, J. E.

KNIGHT, F. S.

LAMOTHE, J. N.

LARACY, J. J. JR.

LEWIS, M. A.

LOCKWOOD, T. G.

LYNCH, J. F.

MAGHAN, A. G.

MARKLE, J. E.

McBRIDE R. J.

MILES, H. V., JR.

NESTER, S. A.

NEWBERRY, J. R.

OLSON,D.H.

O'TOOLE, W. P.

PARTON, J.F.

PASKIN,T.

PAULEY, G. W.

PHENICIE, J. E.

PRIMAVERA, L. J.

PRUNIER, G. A.

QUENETT, C. F.

RALEY, C. H.

RAY, R. C., JR.

RAYNES, J. A.

REID, J. A.

RHANOR, C. J.

RICE, R. M.

ROSE, R. A., II

SCHILLER, R. G.

SCHMIDLING, C. J.

SCHWEYER, R. G.

SLATER, R.

SMITH, L.G., JR.

SNODGRASS, R. L.

STAMM, R. S.

SURBER, R. M.

TIERNEY, D. R.

VELIE, R. C.

VINCENT, T. F., JR.

WHITRIGHT, W.

WILSON, J. R.

WILLIAMS, J. J.

WILLIAMS, I. R., JR.

WILLIAMS, T. F.

WINEGAR, C. D.

WOLFE, L. E.

WRIGHT, G. W., JR.